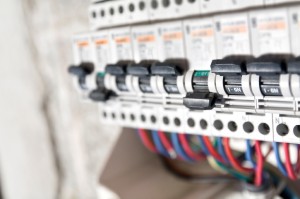 Is it necessary to have service and panel upgrades if your home is being remodeled or your home is having an addition put on?
About thirty years ago, the average home had 60amp electrical service. The service was connected to a fuse panel with two fuse blocks.
In today's modern homes, electrical fuse panels have become obsolete. Many houses nowadays need more power to feed electrical luxuries and appliances that were not there a few years ago.
For example, the average residential air conditioning system which now takes up more power than the entire average home did forty years ago.
If your home wasn't built thirty years ago, there are plenty of other reasons why you should consider hiring us for a service panel upgrade.
Falmouth Plymouth Wareham Bourne Sandwich MA Service Panel Upgrades Keep You Safe
Spikes and power surges can wreak havoc on your machinery, electronic equipment and appliances. Electrical noise and unused capacity causes unnecessary electricity wastage resulting not only in a decreased life span of your electronic equipment but you will incur higher electric bills.
You don't have to fall prey to such unnecessary expenses. EAV Solutions is just a phone call away and we are ready to offer fast and reliable service and panel upgrades. Our services are available to residents in Plymouth, Falmouth, Sandwich, Wareham and Bourne.
We can provide excellent services to all our customers since most of our business comes from customer referrals. In addition, our experts have years of experience doing service and panel upgrades so you can be assured that they can get the job done correctly the first time.
We offer modern high quality panels. These panels have been designed to offer you the ability to expand the circuitry in your home with minimal expense and inconvenience.
If you need service and panel upgrades in Plymouth, Sandwich, Wareham or Bourne, contact us at (508) 245-7155 to consult with one of our experts.