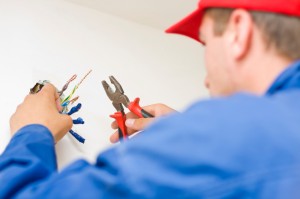 Are you constructing a new home in Plymouth, Falmouth, Sandwich, Wareham or Bourne?
You need to hire a residential electrician new construction team to install the wiring, outlets, fuses and other electrical equipment needed to safely power your home.
A residential electrical team knows how to read blueprints ans work with the general contractor. That team needs to follow the blueprints and have the aptitude to know where to install load centers, outlets and circuits and have the flexibility to insert design variations when they are needed.
A good residential electrician is also familiar with the building codes, laws and regulations in your area. So they ensure that all the electrical work they do on your home meets the necessary requirements.
New Constructions Residential Electricians Plymouth Falmouth Bourne Wareham Sandwich MA
Our residential electrician team can install new wiring in your home – offering our services to clients in Wareham, Falmouth, Sandwich and Bourne MA. We perform full safety evaluations to ensure that your new home is protected from hazards such as electrical fires.
We take pride in our new construction wiring services that we provide to our customers. Hiring one of our licensed electricians is as simple as making a phone call.
We work with clients in multi-family and-single family homes. We gather as much information as we can from them to understand what their needs are. This way, we would have an idea of where to place ventilation systems, air conditioning, heating, lighting fixtures and electrical outlets.
We carefully read and follow blueprints to ensure that the plans the architect had in mind are properly implemented. At Eav Solutions, we take great responsibility in ensuring that we comply with all municipal codes and the power is properly and safely distributed in your home.
If you'd like we can even install a new sound system for your home. We will install proper capacity and wiring to accommodate the latest systems and technology.
Call us today at (508) 245-7155 and consult with one of our experts.